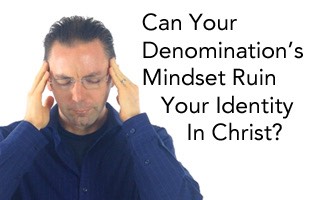 You might not know this, but your denomination's mindset could negatively affect your identity in Christ.
I didn't know it, but I had been believing lies that had crept into the church.
Unfortunately, these lies took a toll on my identity in Christ, and it negatively affected my faith and the people around me.
It turned out that how my denomination did things produced a mindset that hindered my Spiritual growth.
How was I to know that I was believing a lie?
Shouldn't the pastor be preaching the truth 100% of the time?
Well, that's what I thought should happen, but as it turns out the root of the issue goes much deeper, and I'm going to help you get free from it.
After I did this one thing, my Spiritual growth soared.
The weight and the burden of the lies that I'd been believing just fell off.
I want you to experience this freedom too, so you can walk in the fullness of your identity in Christ.
Now, I'm going to expose how you can break free from your denomination's mindset, so your Spiritual growth can rapidly increase.
Discover How Your Denomination's Mindset Can Ruin Your Identity In Christ
Now you know how the lies crept into the church, and that this can affect your identity in Christ.
You won't act like who you already are in-Christ when you believe lies about your identity in Christ. Tweet This!
This is why we must guard our minds and break free from the lies that the enemy tries to trap us in.
Here are some helpful links…
Leave a comment below and share the BIGGEST lie you used to believe about God, Christianity, and the church. How did it affect your identity in Christ, your walk of faith, and the people around you?