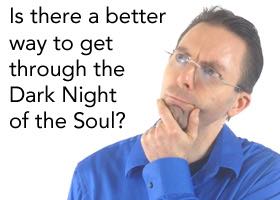 Have you felt abandoned by God, where it seems He's nowhere to be found?
Do you feel like the things that brought you hope, joy and pleasure are draining out of your life?
If so, you may be experiencing what's called, "The Dark Night of the Soul", and it can last for months or even years if you don't know how to navigate it… but I do, and I want to teach you the secrets so you don't wreck your life and drown in your misery.
I found a way of getting out of it, and I'm going to share with you the secrets of how to get through the Dark Night of the Soul in an easier and faster way.
I've stumbled through several of these dark nights that left me mentally drained, and feeling like there was no escape.
Night after night I played through the same old scenario…
"Where are You, God?" … (silence)

My confidence left me and I felt completely alone, with only my tears to keep me company.
Then one day something changed, and I discovered how to get through them, and now I'm going to share with you how you can get through the dark night of the soul easier and faster…
In the following video, I share 2 testimonies on how I've overcome my very own Dark Nights – in detail.
So now you know the secrets, that it's possible to get through them easier and faster, and that you don't have to be afraid of them ever again.
I still have more good news for you.
You can find more info about Saint John of the Cross and his book about the DNOTS below.
Check out how to get through your Dark Night of the Soul easier and faster Tweet This!
Remember to Comment, Share, and Subscribe below…
More Info:
Other Saint John of the Cross Info (Wiki)
Dark Night of the Soul (Illustrated Book)
Here are some scriptures to keep in mind as you go through your Dark Night of the Soul: