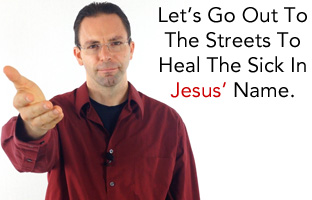 Have you ever wanted to step out in faith, but didn't talk to the person?
Would you like to change someone's life forever by praying for healing in Jesus' Name, and seeing their problem go away?
Here I'll share a few healing testimonies that have happened, just this past May and June, and share what happened when I took out some friends of mine to the streets to pray for the sick in Jesus' Mighty Name.
Before you watch and listen to these healing testimonies, I want you to understand that I want you to praise God for them (not me or my friends).
I don't want to steal one drop of God's glory, honor or praise.
Here are some Healing Testimonies from May and June in 2016

I thank God every day for what He's done, continues to do, and will do.
It's so wonderful that we get the opportunity to partner with God to heal people in Jesus' Name, and tell them how much God loves them.
I DON'T want you to give me praise, honor, or glory for these healing testimonies.
We can ask God to help us share His heart with people, and open up our eyes to see the hurting, the broken and the lost.
This can lead to healing the sick in Jesus' Name, ministering to someone's heart, and other things. In all cases, I want to give God the credit He's due.
Jesus heals today! Watch this video of healing testimonies. Tweet This
Don't forget that you can also join our Prayers That Heal events to get discipled on the subject of healing.
Here are some of the many scriptures that you can believe upon Jesus Christ for Healing.
God is our Healer and He's the same today, yesterday, and forever (Psalm 103:3, Malachi 3:6).
God has allotted to each a measure of faith (Romans 12:3).
As the Scriptures say, "If you want to boast, boast only about the LORD" (2 Corinthians 10:17).
Jesus commands His disciples… Heal the sick, raise the dead, cure those with leprosy, and cast out demons (Matthew 10:8).
Everything is possible for those who believe (Mark 9:23).
Do you have healing testimonies? Leave a comment below and tell us about a healing testimony that's happened because you've prayed in faith, seen, or heard of.