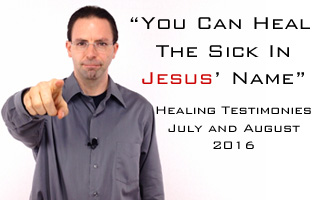 I've partnered with several people in the last couple months to disciple others on how to heal in Jesus' Mighty Name, and you'll discover what happened.
One time we visited a friend's house and got to see several healings, and one lady got radically healed by Jesus Christ.
Another time my friends and I went to a hotel and prayed for some of the workers there… but the stories don't end there.
We went on several adventures and I'm going to share with you what happened to so many people.
It's important to remember that some of the people we took with us on our adventures, that it was their first time seeing Jesus heal people through their prayers.
That means that they're not some super-apostle with 10 letters of recommendation saying they're fit to do God's work.
They didn't wait to get their pastor's approval.
They just said, "Yes" to God and are willing to step out in faith.
We're not looking to make a name for ourselves, but are wanting to make Jesus Christ famous.
I don't want to steal one drop of God's glory, honor or praise.
Healing Testimonies from July and August in 2016

I know how much my life has been impacted by God healing me, and I'm so thankful that I want to help others heal others in Jesus' Mighty Name.
They just said, "Yes" to God and are willing to step out in faith.
Not only do we pray for others, we also explain to them that they can do the same, because the same Jesus that's in us is also in them (if they're Disciples of Jesus Christ).
This means they don't have to wait for their pastor to show up.
They don't have to wait for the next healing conference.
We, as disciples of Jesus Christ, can pray for each other and change lives today.
Say "Yes" to God and be willing to step out in faith! Watch These Healing Testimonies. Tweet This
Don't forget that you can also join our Prayers That Heal events to get discipled on the subject of healing.
Here are some of the many scriptures that you can believe upon Jesus Christ for Healing.
God is our Healer and it's always His will to heal, because He's the same today, yesterday, and forever (Psalm 103:3, Malachi 3:6).
God has given an amount of faith to every person (Romans 12:3).
We choose to glorify God, and encourage each other, by telling testimonies (2 Corinthians 10:17).
Jesus commands His disciples… Heal the sick, raise the dead, cure those with leprosy, and cast out demons (Matthew 10:8).
Everything is possible for those who believe (Mark 9:23).
Do you have healing testimonies? Leave a comment below and tell us about a healing testimony that's happened because you've prayed in faith, seen, or heard of.