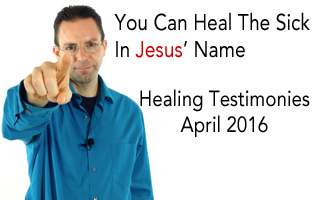 Have you ever struggled with praying for the sick and seeing them healed in Jesus' Name?
Do you love hearing about healing testimonies or ever wanted a healing testimony of your own?
Here I'll share a few healing testimonies that have happened, just this past April, with scriptures to help inspire you, and encourage you in your faith in Jesus Christ as our Healer.
Before you hear these healing testimonies, I want you to understand that I want you to praise God for them, not me.
I don't want to steal one drop of God's glory, honor or praise.
Here are some Healing Testimonies from April 2016

I DON'T want you to give me praise, honor, or glory for these healing testimonies.
Give God all of the glory, honor, and praise.
The faith we have is a gift from God.
That means I can't even take credit for the faith I have, because I have it by grace.
As I go about my days, some things I ask The Lord to do are to: point people out to me that need healing, speak through me, let me reveal His Love on Earth as He is in Heaven.
This can lead to healing the sick in Jesus' Name, ministering to someone's heart, and other things.
In all cases, I want to give God the credit He's due.
Watch this video of a series of healing testimonies. Tweet This
Don't forget that you can also join our Prayers That Heal events to get discipled on the subject of healing.
Here are some of the many scriptures that you can believe upon Jesus Christ for Healing.
God is our Healer and He's the same today, yesterday, and forever (Psalm 103:3, Malachi 3:6).
Telling healing testimonies and others are biblical. Don't do it to "just to be seen", but instead to encourage others in their faith (Acts 14:27, Hebrews 11).
Jesus commands His disciples… Heal the sick, raise the dead, cure those with leprosy, and cast out demons (Matthew 10:8).
Jesus commands His disciples… Go and make disciples of all nations, baptizing them in the name of the Father and of the Son and of the Holy Spirit, teaching them to obey all that I have commanded you (Matthew 28:19-20).
Everything is possible for those who believe (Mark 9:23).
Do you have healing testimonies? Leave a comment below and tell us about a healing testimony that's happened because you've prayed in faith, seen, or heard of.