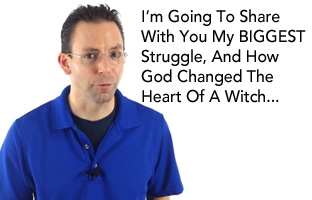 Something strange happened to me when I was a little kid.
It was so strange that I made it my life's mission to find out what had happened.
It caused me the most pain in my life, and it left the deepest scars on my heart.
This eventually became the reason that I woke up in the morning.
As you continue reading and watch the interview, you'll discover why I eventually went into witchcraft, and what happened to get me out of it.
I couldn't escape the feeling this event had imprinted on my life, and I had to reach rock bottom before I got my answer.
I've burned a lot of bridges in my life because of this event.
I was a complete wreck when I wasn't on my meds.
Now I'm going to share with you the deepest pain in my life, what happened to get me through it, and the answer to what happened to me.
Grab the kleenex and watch this testimony.
Here's my story about how an ex-Witch Converted to Christianity and got Healed of Over 7 Diseases
I'm so thankful that I've been given another chance at life, and that I'm healed of all that junk.
I can now: eat food without worrying about the ingredients, have stable emotions, and enjoy fuller and richer relationships.
I can now: think clearly, process food correctly, and run without worrying about asthma.
Here are some scriptures that have brought me insight:
Those that deny Me before men, I'll also deny him before My Father in Heaven (Matthew 10:33).
Three things will last forever: faith, hope, and love–and the greatest of these is love (1 Cor. 13:13).
About the Spirit, brothers and sisters, I don't want you to be uninformed (1 Cor. 12:1).
"I Have to Believe" – Video, by Rita Springer
An ex-Witch Converts to Christianity and Gets Healed of Over 7 Diseases.
Please Comment, Share, and Subscribe Below