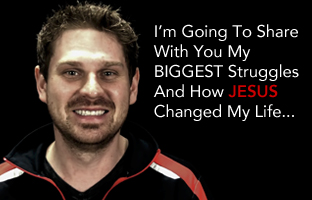 I met Daniel Kondratyuk in Kansas City, MO after an Immerse program, and he shared with me how discovering relationship with God changed his life.
Daniel shared many of his ups-and-downs in life with me, and how much this new perspective has helped him overcome them.
Some people don't realize just how much God wants to be involved in our daily lives, and they miss out on the adventure of discovering God.
I'm excited to share with you Daniel's powerful testimony of transformation.
Many Christians believe that God is far away, abusive, and angry with them.
Some people go to church and think God won't talk with them, because they're not a pastor (this used to be me).
I'm here to tell that you can have a relationship with God (or an even better relationship with Him) and to know Him, and that Daniel is living proof of just how much a life can change by pursuing God…
but I'll let him tell you his own heartfelt story how God changed his life.
Click play on the video, and hear how God changed Daniel's life.
How Discovering Relationship With God Changed Daniel Kondratyuk's Life

Daniel's new found passion is felt even through this video, but I got to experience it in person.
After sharing his testimony with me, he told me about how God had been showing him things to pray for others about, even while he was out at a restaurant.
Daniel told me that God let him experience someone else's pain (word of knowledge), and how he stepped out in faith.
He asked the waiter about it, and prayed with the waiter for the person.
Relationship with God is the most important relationship we can have.
God has changed millions of lives throughout history, but it's awesome to hear testimonies of Him changing lives.
It's so important to take time out of our day and build the most important relationship we could possibly have.
That relationship is with God, and He loves it when set our attention and focus on Him.
Would you like to tell others that they can have a relationship with God too?
Tell them by tweeting this out, and sharing this in other places right now.
You Can Have Relationship With God Too! Click Here, Watch This Powerful Testimony. Tweet This
Leave a comment and tell us something exciting you've experienced in your relationship with God.